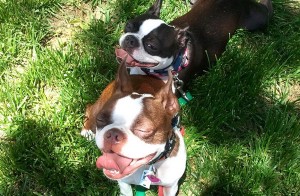 Our Group Training option covers any and all topics listed under the Private Training section in a fun class setting to provide the added benefit of working with your dog in the presence of increasing distractions. Working in group classes with other handlers and dogs builds on the work you have already done privately and helps develop confidence. Group training is generally conducted in different locations each week to add variety and changing environmental factors to help proof behaviors. Group classes and semi-private sessions require private consulting and training with Brian beforehand to ensure a smooth transition into the class setting for you and your dog.
Please contact us with any questions about current Group Class scheduling and availability.
Examples of Group Training Class topics
Sit
Sit-Stay
Down
Down-Stay
Off-leash heel
Place (staying on a bed or mat)
Recall (coming when called)
Walking nicely on a leash
Socialization
Confidence building
Proper manners when greeting people and dogs
Obedience and reliability in the face of distractions
And much more!