Brian Bergford
Brian Bergford is a Certified Dog Trainer (IACP-CDT) with extensive experience as a practicing dog behavior specialist. He serves on the Board of Directors for the International Association of Canine Professionals and is the owner of Altitude Dog Training and Uptown Dog in Longmont, Colorado. His expertise is the interplay between dog behavior and human psychology, and his first book, Transformational Dog Training: Bring Out the Best in Your Dog by Bringing Out the Best in Yourself, emphasized the critical relationship between personal development and the behavioral stability of companion animals. Brian has written articles published in professional journals in addition to presenting as a featured speaker at international conferences on dog training and personal performance and development. He also owns Bergford Performance Systems which offers Speaking and Peak Performance Coaching services to organizations and individuals.
Brian earned his degree in Psychology from the University of Colorado, taking particular interest in neuroscience, psychopathology, clinical psychology, and the principles of peak human performance. His passion for helping people and dogs drove him to expand his knowledge base by studying the principles of Canine Psychology and Behavior as well – a journey that helped him understand not only the human-canine bond but how each of us can maximize the peace and potential of our lives and share these benefits with our dogs.
Brian has been working with dogs since 2002. His ability to interpret canine energy, body language, and cognitive processes has enabled him to develop effective communication strategies to accomplish not only advanced obedience work with dogs, but effective behavior modification as well. Drawing on his psychology background, he develops specialized training and development programs for people. The overall aim is to empower and equip them with the knowledge and tools they need to maximize their personal potential, while gaining a greater understanding of their dogs and how to thoughtfully communicate with them. Brian firmly believes that the way we live with our dogs has every bit as much to do with their quality of life as the way we train and educate them.
Having studied a wide spectrum of training applications, his experience working with many different training methodologies allows him to develop creative training solutions – solutions most appropriately suited to meet the needs of the individual dog and family. Brian is also a Volhard Dog Nutrition consultant, and this additional specialization in nutrition and holistic health modalities adds greater depth and sophistication to his insight about canine behavior. He is a firm believer that all facets of a dog's life – spiritual, physical, and psychological – are interconnected, and that creating positive change in one area of a dog's life will inevitably cause a ripple effect, benefiting all other areas as well.
Brian particularly enjoys working with packs of dogs and helping rehabilitate dogs with behavioral issues. It has been a great joy and honor for Brian to do advanced volunteering work with Longmont Humane Society's Behavior Department for a number of years. As a 4th level volunteer, Brian worked among a select handful of top-tier volunteers to help rehabilitate dogs that exhibited the most severe behavior challenges, including issues such as extreme aggression, fear, and reactivity.
Brian is tremendously grateful for the opportunity to work with Aimee Sadler – founder of Dogs Playing for Life – and periodically travels with her as well as other members of the DPFL team to different parts of the country as an Instructor, assisting shelters with the implementation of off leash play groups. Aimee's expertise is highly sought after and her cutting edge work, which includes utilizing play groups in shelters to help successfully rehabilitate under-socialized dogs, has received national recognition. She specializes in behavioral problems, presenting regularly at international animal welfare and professional dog training conferences, and is one of the proud recipients of the Henry Bergh Leadership Award for 2012. Aimee was also presented with another prestigious award in 2013, being inducted into the International Association of Canine Professionals' Hall of Fame. Aimee has inspired Brian – and a great many others – with her masterful training, infectiously positive attitude, wisdom, and love of dogs and people. The value of Aimee's mentorship cannot be overstated and Brian is honored to know her and call her a friend.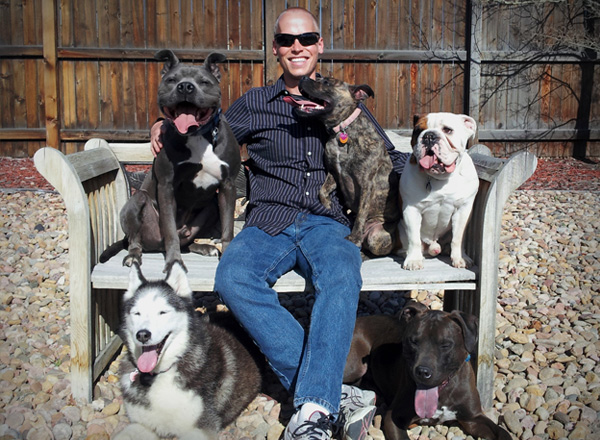 Brian Bergford
Owner & Trainer